How It Works
Our laundry production process combines advanced technology with careful supervision at each step to ensure both high quality and high production levels.
Soil Sorting
Linen contained in soiled carts is sorted by classifications.

Proper sorting and classification allows the soiled linen to be matched to best formula for soil removal.

Proper sorting reduces textile damage and extends the life cycle for soiled linens.

All soiled carts are individually washed and sanitized using an EPA-registered sanitizer.

All trucks containing soiled carts are individually washed using an EPA-certified sanitizer.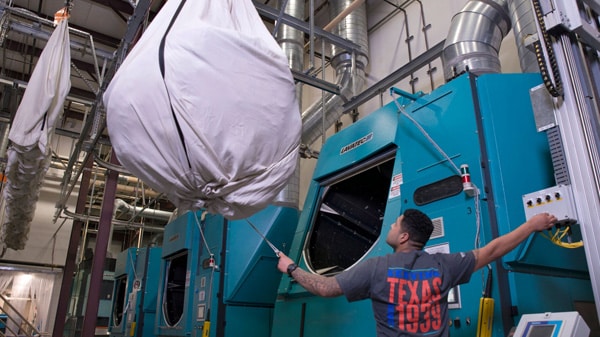 Wash Process
Soiled linen is loaded into tunnel washer in batches.

Depending on the classification of linen the batch data in entered into the computer system for proper water temperature, chemicals and drying times.

Once extracted from the press, an automated conveyor system will guide batch of linen to its designated dryer.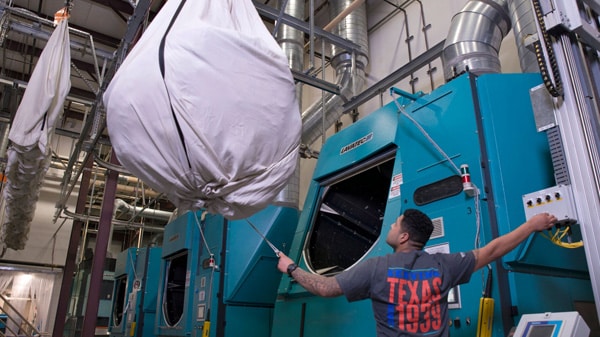 Finishing
Clean, dried linen is placed in staging area depending on the classification of linen.

Items that have been pre-conditioned by the dryer will proceed to flat work ironers
for a wrinkle free finish.

Full dry items will be folded and stacked by small piece folders, blanket folders or fitted sheet folders.

As the linen is finished and stacked in bundles it is placed on a conveyor that delivers the linen to be assembled in carts.

Delivery carts are sanitized and lined with a new plastic cart liner before each job. The cart liner is folded over to prevent contamination while being transported.